Services
Certified Personnel
Maintaining the Highest Quality Standards
Omineca Industrial is committed to maintaining the highest quality standards in our work. We employ a diverse team of qualified and resilient tradespeople who have the expertise and the experience required to address even your most challenging project needs.
We are proud supporters of the Canadian Red Seal Program and work with our employees to ensure they reach their maximum potential by providing opportunities for mentorship and professional development.
A Full Suite of In-House Personnel
Omineca Industrial is committed to providing its customers with a full suite of in-house services and personnel. This enables us to provide a predictable level of technical ability and quality. For this model to be successful, Omineca recruits and employs an assortment of Red Seal tradespeople in the shop and in the field. This allows us to provide flexibility to our partners and not rely on subcontractor or supplier timelines.
Our current in-house trade specialties include:
Machinists
Welders – including CWB steel and aluminum structures
Metal Fabricators & Sheet Metal Fabricators
Iron Workers
Industrial Mechanics (Millwrights)
Heavy Duty Equipment Technicians (Heavy Duty Mechanics)
Industrial Carpenters
Industrial Painters
Mobile Crane Operators
Red Seal Endorsement
In Canada, trades training and certification are the responsibility of the provinces and territories. The Red Seal Program was originally established to support the mobility of apprentices and skilled tradespeople across Canada. In consultation with the industry, the federal Red Seal program sets national standards to assess the skills of tradespeople across Canada. Over the years, the Red Seal has become the standard for skilled trades workers in Canada. A Red Seal designation indicates that a tradesperson has demonstrated the knowledge required for the national standard in that trade.
Omineca Industrial is committed to employing and helping develop existing and future generations of Red Seal certified tradespeople who are top performers in their chosen fields.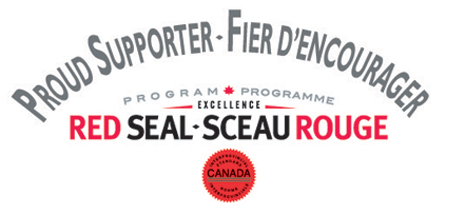 Machinists
Our Machinists are highly precise and tactile tradespeople who transform raw materials into precision parts and machinery components. They use their skills and expertise to machine intricate parts that can be fitted and assembled to meet your exact specifications. Our commitment to quality ensures all the parts manufactured in our in-house machine shop meets exact standards in size, strength, and hardness.
At Omineca Industrial, our Red Seal Machinists utilize state of the art tools such as lathes, milling machines, saws, drilling and boring equipment, precision measuring tools, hand and power tools, and CNC machining to process steel, aluminum, titanium, plastics and other specialty materials to suit a wide range of project needs.
Welders
Omineca Industrial's certified Welders are precise and determined individuals who enjoy the challenge of working with intense focus in difficult conditions. They are the "masters of metal" and can fuse a variety of ferrous and non-ferrous metals in all positions using precisely executed welding procedures.
Our company is aluminum and steel CWB certified in the shop and in the field. Our Red Seal Welders are confident in multiple welding processes such as SMAW, FCAW, GMAW, and TIG.
Omineca's field Welders are prepared for any challenge they may encounter. Examples include working in variable weather conditions, heights, confined spaces, etc.
Metal Fabricators (Fitters)
Our Metal Fabricators are precise, mathematical and hands-on master builders who design, assemble, and repair products made of steel, aluminum, and other metals. These knowledgeable tradespeople excel at steel and aluminum construction and installation projects in a wide variety of primary resource industries. Using their specialized skills and Omineca's arsenal of heavy-duty metalworking equipment, our fitters can meet even your most complex steel and aluminum fabrication challenges without compromising quality or safety.
Our fabrication team will lay out, fabricate, assemble, weld, install, and service your metal structures and integral equipment. In our 13,000 square foot facility, our team processes over 250,000lbs of metal each month to produce a variety of finished products ranging from small parts to large material handling equipment. Our Fabricators are precise in their work and collaborative in their approach to problem solving both in the shop and in the field so you can be sure your project will be completed to the highest standards.
Industrial Mechanics (Millwrights)
Omineca's Industrial Mechanics install, commission, and maintain a large variety of stationary equipment in forestry, pulp and paper, and mining facilities across North America. Our qualified tradespeople assist during breakdowns and are available to respond to even the most challenging jobs.
Our Red Seal Millwrights install, repair, overhaul, and maintain industrial material handling and processing equipment. They perform routine preventative maintenance activities such as inspecting and lubricating equipment and documenting wear patterns. Our Industrial Mechanics are confident in equipment dismantles, relocations, and installs and are thorough with lay out, alignment, and commissioning. They demonstrate their technical skills when troubleshooting or replacing hydraulic and pneumatic components on machinery.
Heavy Duty Equipment Technicians (Heavy Duty Mechanics)
Our versatile Heavy Duty Equipment Technicians are your behind-the-scenes experts. They use their resourcefulness and mechanical aptitude to maintain, overhaul, recondition, and repair mobile equipment including graders, loaders, excavators, tractors, trailers, and forklifts. We have experience working with wheeled and tracked vehicles of all types used in construction, forestry, manufacturing, mining, and other heavy industries.
Our field Mechanics can keep your fleet and heavy equipment in top condition by providing regular predictive and preventative maintenance. We are committed to extending the life of your equipment along with reducing downtime and costs related to major equipment failures.
Industrial Carpenters
Omineca is currently expanding our Industrial Carpentry services to maximize the benefits that come from offering our customers a full suite of in-house trade services. Our construction team can safely build and repair a vast array of structures made of wood, steel, concrete, and other materials.
Industrial Painters
Our team utilizes both artistry and precision with an eye for detail to ensure your projects are completed to your exact specifications.
Our Industrial Painters prepare and apply paint or other organic/inorganic coatings to structural steel and equipment. This is the final step in the fabrication process before we ship equipment to its destination. When the equipment is located at your facility, our Painters and their tooling are mobile to complete necessary tarping, preparation and painting on-site. Our meticulous and detail oriented team of Painters recognizes that paint quality is an important factor that contributes directly to the success of any project.
See our past projects or contact us to start discussing your industrial construction project.